Functions
Description
Multi-System Calibration
Supports calibration for six major systems including LDW/ACC/AVM/NVS/BSD/RCW
√
Multi-Vehicle Model Calibration
Supports ADAS system calibration for over 90 vehicle brands in Europe, Americas, Asia, and
√
China, with over 90 target models
Device Folding
Supports beam folding
√
Device Elevation
Supports manual elevation adjustment, using a laser rangefinder for height positioning
√
Parallel Alignment
Achieves device parallel alignment using auxiliary accessories like alignment assist lines
√
Level Adjustment
Observe the bubble level, adjust the base knob, and achieve device leveling
√
Passenger Vehicles ADAS Calibration Targets & Accessories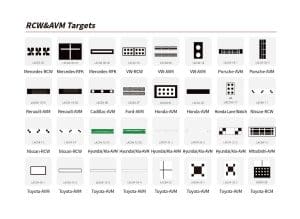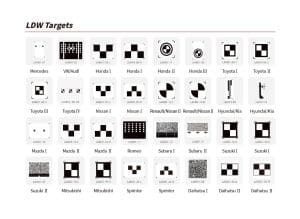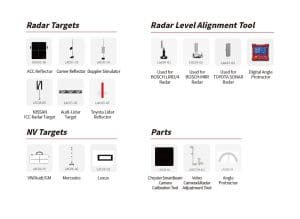 Vehicle Model Coverage:
European
Mercedes-Benz, BMW, Audi, Volkswagen, Land Rover, Jaguar, Volvo, Fiat, Opel, Seat, Skoda, Renault, Citroen, Smart, Mini, Peugeot, Porsche, etc.
American
GM, Ford, Chrysler, Buick, Cadillac, Chevrolet, Dodge, Jeep, Lincoln, etc.
Asian
Kia, Hyundai, Toyota, Lexus, Honda, Acura, Nissan, lnfiniti, Mitsubishi, Subaru, Suzuki, Daihatsu, Mazda, etc.
Note: The vehicle coverage list is continuously updating. Please contact Launch dealer to get the latest coverage.